d&b audiotechnik PA Systems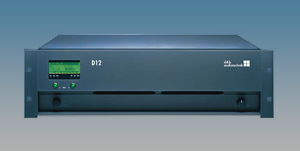 In 2013 we were happy to start adding d&b audiotechnik products to our hire stock, commencing with E12 loudspeakers and D12 amplifiers.
These offer superlative performance and audio quality, and extend the capacity of existing systems featuring our already well-respected Martin Audio loudspeakers.
We plan to increase our range of d&b equipment, and welcome suggestions from existing and potential clients for products or systems they would find useful.
As well as comprehensive Digital Signal Processing facilities to produce optimum performance from any d&b loudspeaker, the D12 amplifier provides high undistorted power (750W/channel into 8Ω, 1,200W/channel into 4Ω).
The full-range E12 loudspeakers feature:
Compact size - 350 × 580 × 334 mm (H × W × D)
Low weight - 16 kg
High output - 134 dB SPL (peak)
Exceptionally even frequency response - both on and off axis
We now offer complete PA systems featuring d&b audiotechnik loudspeakers in the following formats:
For speech or audio-visual presentations in medium-sized auditoriums, or in any setting where complete intelligibility and impeccable vocal clarity are essential.
For live and recorded music at public or private events.
For live music at higher listening levels in medium-sized venues or small-scale festivals.