PA Hire
PA System and Equipment Hire from Stroud, Covering Cheltenham, Gloucester, Bristol and the South West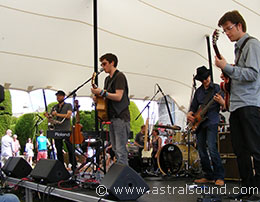 We specialise in the rental of high-quality PA systems with delivery and production crew (also known as Wet Hire), suitable for most types of event in venues accommodating up to 1,000 people.
If you are planning an event and would like help in deciding what you will need, please feel free to ask us for advice, without obligation.
Please don't hesitate to email or call us if you can't find what you need to know here, or if your event has specific requirements you would like to discuss. We're happy to liaise directly with bands or venues if it makes things easier, to check and advise on technical riders or similar documents, and to quote for combinations of equipment and services that do not comprise one of our pre-tailored PA systems.