PA Hire
PA System and Equipment Hire from Stroud, Covering Cheltenham, Gloucester, Bristol and the South West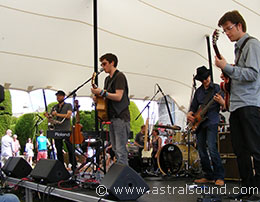 We specialise in the rental of high-quality PA systems with delivery and production crew (also known as Wet Hire), suitable for most types of event in venues accommodating up to 1,000 people.
If you are planning an event and would like help in deciding what you will need, please feel free to ask us for advice, without obligation.
Please don't hesitate to email or call us if you can't find what you need to know here, or if your event has specific requirements you would like to discuss. We're happy to liaise directly with bands or venues if it makes things easier, to check and advise on technical riders or similar documents, and to quote for combinations of equipment and services that do not comprise one of our pre-tailored PA systems.
We have a selection of off-the-peg PA systems with the core equipment, capacity and flexibility to cater for a wide range of events ands allow a high standard of audio production.
We provide:
Professional Equipment - built and tested to audio industry standards;
Professional Sound Quality - employing best practices in PA System Design;
Professional Service - from skilled and experienced personnel.
We will always provide a specific quotation for any hire, but you can get a general idea of the hire cost of our manned systems (including common variations and optional extras) from our Prices page.
We always endeavour to provide good value, and hope you will find our rates competitive if compared on a like‑for‑like basis with other suppliers whose prices include delivery and set-up.
Although the many variables in a PA system make simple 'price matching' difficult to apply, where systems or services can be easily compared we will try to match other quotations if you ask us.
We can supply any available item or combination of items for your collection and return, or add them to any packaged system
Our current dry hire (unmanned, ex-works) price list allows you to estimate the hire cost of any combination of equipment you require.
Prices are published in good faith and are correct at the time of publication, but can only be guaranteed on our acceptance of your order.
Most of the equipment we currently stock is individually detailed here, including the manufacturer's full specifications where possible.
User-manuals can generally be downloaded from the manufacturer's website.
However, if you can't find what you need to know (either here, or from the manufacturer), please ask us and we'll try to help.
We stock dmx-controlled LED PAR‑64 lanterns and standard incandescent lighting, gels and dimmers for small‑scale productions.
We can also add sub-hired lighting to our sound systems. Please ask about this if you would like more lighting for your event.
We can supply a generator to power any of our sound and/or lighting systems.
Please note that we do not supply generators on their own: we only supply and install them them with our own delivered PA systems.
If you would like to place an order for a PA system or equipment please check this page first, and read our Terms and Conditions1.
This is not an exclusive statement of hire terms that may apply: as well as specific additional terms that may apply in some cases, there may be terms that apply by virtue of legal requirement or common practice, or terms that are specified or implied by other parts of a hire agreement. However, it covers most of the common important points. There are additional Dry Hire Terms, and there may be other express or implied terms in any agreement you have with us.

We will in any event endeavour to deal with you fairly and openly, and as long as you deal with us in the same way (and take care of our equipment if it is under your control) nothing you agree with us should give you cause for concern, but please take independent advice if you are in doubt.