Loudspeakers
Types of Loudspeaker in Live Concert Systems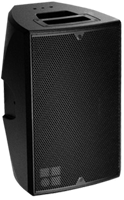 Loudspeakers are the part of a PA system everyone can see and hear. With midrange and high-frequency cabinets, if the audience can't see the speakers there is every probability they can't hear them as well as they should.
Although similar principles apply to most kinds of loudspeaker, there are differences in the way they are used. For that reason, this section deals with them in terms of application:
Loudspeakers in a single box, designed to cover most of the audio frequency range.
Loudspeakers that split the audio frequency range into two or more bands, each of which is covered by a separate box. Why?
"Line-array" is a relatively recent buzz-word in loudspeaker technology. Should a line-array system be on your shopping list?
Loudspeakers that point at the performers rather than the audience.
Why loudspeaker placement is important.