Generator Hire
Hiring a Generator for your Event
We can supply a 5kVA diesel generator for outdoor events. This will provide enough power for a small PA System with stage or effects lighting, or a larger (up to 4kW) system with monitors but without lights.
This will cost £100.00 + VAT (£120.00 including VAT) per day - including delivery and fuel - when hired with any of our packaged systems.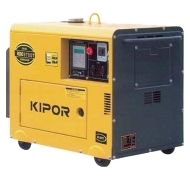 Kipor KDE6700TA 5kVA diesel generator
The Kipor KDE6700TA has all the features you need for power at an outdoor event:
Quiet running (72dBA @ 7 metres)
Regulated output (you can run computers or other sensitive electronic equipment)
Long run-time (9.5 hours at full load)
Low running costs (it uses low-cost red diesel)
Electric starter.